Step 1.Click on the Prophetic Instruction Down Below
Step 2. Click Here– Sow Make it Possible FAITH Seed $27.27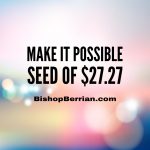 or Click Here–  Sow Make it Possible Faith Seed of $127.27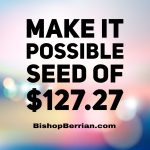 Step 3. Click on the link down below Your Free Gift the Teaching on  "How to Break the Curse of the Evil Waters" Cut and Paste the link
https://s3.amazonaws.com/cdteachings2016/Breaking+Curses/Breaking+the+Curse+of+the+Evil+Waters.mp3
Step 4. Join the live conference call at 7:27 PM EST Friday, February, 10, 2017 to hear a Word from God concerning your life as you sow your Make it Possible Seed $27.27.
Save
Save

The conference call number is: 515-739-1285, Code: 238356#.   
Join the conference call tonight to Get Your Prophetic Word.
Save
Save
Save