Step 1: Click on the link down below to listen to the audio file.
Click Here Sow your Faith Seed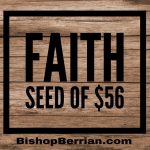 Step 2: Go to your email and read the rest of the instructions for Mastery.
Step 3: Once you have sowed the seed go to your email and read the special instruction to start to produce 11 areas of mastery in your life.
Step 4: Tomorrow, Tuesday February 28th at 7:56 PM EST with your list of 11 situations you want MASTERY in.